Research Of The 39th Signal Battalion Symbols
By a former member of the 550th Signal Company
39th Coat of Arms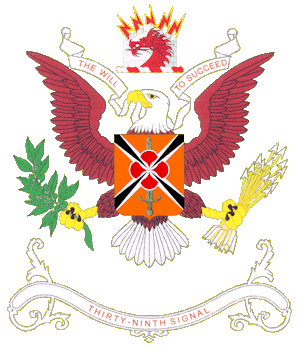 by: Joe Moore
Sketches courtesy: The Institute of Heraldry
The blazon and symbolism of the Coat of Arms are as follows:
Date: 17 March 1997
BLAZON
SHIELD: Tenné, a sward palewise Argent (Silver Gray) debruised by a saltire Argent charged with four rays issuant saltirewise Sable, overall a quatrefoil Gules fimbriated of the third.
CREST: from a wreath Argent and Tenné a tower of the first issuing five lightning flashes pilewise Gules fimbriated Or superimposed in base by an Oriental dragon's head of the third.
MOTTO: THE WILL TO SUCCEED.
SYMBOLISM
SHIELD: Orange and white are colors traditionally associated with the Signal Corps. The sword symbolizes service in Vietnam, for which the unit was awarded the Meritorious Unit Commendation. The intersecting quatrefoil, rays and saltire represent a radio beam and reflect aspects of the unit's mission. Red, black and silver, the former colors of Germany's national flag, allude to service in the Rhineland during World War II. Red and white are also the colors for the signal flags in the branch insignia.
CREST: The tower, a symbol of defence and strength, represents the unit's World War II service in Rhineland and Central Europe and suggests that region of Europe. Vietnam service is commemorated by the Oriental dragon which is red, denoting valor and sacrifice. The five lightning flashes, symbolizing quick response and electronic warfare, reflect the unit's Meritorious Unit Commendations for Vietnam War service; red is the color of the decoration. and gold is emblematic of honor and high achievement.
Link to Unofficial artwork by Joe
Other Vietnam related sites hosted by MooreJ:

Copyright © 1998-00
MooreJ
You are visitor:

Since 13-Jun-1999
Optimized For:

Last updated:
11-Jun-2000
Disclaimer: This is a personal web site and not indorsed by, nor affiliated with the 39th Signal Battalion.
The Official 39th Signal Battalion web site is:


39th Signal Battalion Headquarters
Chièvres, Belgium APO AE09708