Research Of The 39th Signal Battalion Symbols
By a former member of the 550th Signal Company
39th Insignia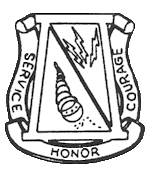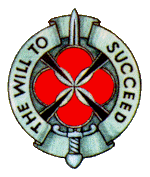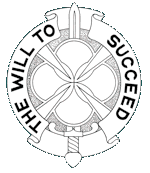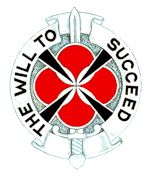 Pre 1966 1966 1986 1993
Unofficial Recorded Manufacturing Recorded
Insignia Sketch Drawing Sketch
Link to Unofficial artwork by Joe
by: Joe Moore Sketches courtesy: The Institute of Heraldry
The description and symbolism of the distinctive Unit Insignia for the 39th Signal battalion are as follows:
date: 11 May 1993 (simlar to the orginal 20 January 1967 document)
DESCRIPTION
A silver color metal and enamel device 1 1/4 inches (3.18 cm) in height overall, consisting of a silver sward point up, the blade surmounted in cross by four intersecting red discs, the intersections silver, overall four black rays saltirewise in point; all in front of a silver encircling scroll inscribed "THE WILL TO SUCCEED" in black.
SYMBOLISM
The sword symbolizes service in Vietnam, for which the unit was awarded the Meritorious Unit Commendation. The intersecting quatrefoil, rays and saltire represent a radio beam and reflect aspects of the unit's mission. Red, black and silver, the former colors of Germany's national flag, allude to service in the Rhineland during World War II. Red and white are also the colors for the signal flags in the branch insignia.
Other Vietnam related sites hosted by MooreJ:

Copyright © 1998-00
MooreJ
You are visitor:

Since 13-Jun-1999
Optimized For:

Last updated:
11-Jun-2000
Disclaimer: This is a personal web site and not indorsed by, nor affiliated with the 39th Signal Battalion.
The Official 39th Signal Battalion web site is:


39th Signal Battalion Headquarters
Chièvres, Belgium APO AE09708